Chesapeake Regional Healthcare is committed to caring for you during this unprecedented time. To keep our patients, staff and community healthy, extraordinary safety measures have been implemented system-wide under the guidance of the Virginia Department of Health and the CDC.
The COVID-19 global pandemic is an evolving situation. We are working with public health officials around-the-clock and pledge to provide updated information as it becomes available.
---
Need to Speak to a Provider About COVID-19 Symptoms?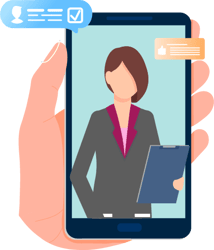 If you are sick:
Stay home.

If you are experiencing symptoms but do not need emergency care, stay home.
Call your provider. Call your health care provider by phone or visit a free virtual provider if you a

re experiencing symptoms such as:

Fever.

Cough.

Shortness of breath/difficulty breathing.

Chills.

Repeated shaking with chills.

Muscle pain.

Headache.

Sore throat.

New loss of taste or smell.

Contact with someone with confirmed COVID-19 within 14 days of onset of any unusual symptoms.
After completing your COVID-19 screening, if the provider feels that further evaluation or testing is needed, you will be referred to the Emergency Room or our COVID Hotline. The COVID Hotline will be open Monday through Friday from 8am - 4:30pm.
This screening is provided free of charge to those who are concerned about their coronavirus symptoms. If your health care professional feels further testing is required, the following CPT code and cost for testing will be applied: Test 87635 - Severe acute respiratory syndrome coronavirus 2 (SARS-CoV-2) - $65.
To see a virtual provider about concerns unrelated to COVID-19, we now offer virtual provider options for all our medical offices and specialty areas. For a list of providers visit our Locations page.
Get help. If you develop the following emergency warning signs for COVID-19, seek medical attention immediately by calling 9-1-1 or visiting the closest Emergency Department.

Emergency warning signs include**:

Trouble breathing
Persistent pain or pressure in the chest
New confusion or inability to arouse
Bluish lips or face
**Source: CDC. This list is not all inclusive.
Please consult your medical provider for any other symptoms that are severe or concerning. Do not visit the Emergency Department for COVID-19 testing. Emergency resources are needed for the most critical patients.
Want Updates Sent to Your Email?
Fill out the form below and we will notify you of any updates.